Fern pitch ~ A valley camping pitch.
(Previously known as Valley 2)
In a world of your own - south facing pitch with a really secluded campfire area that makes you feel like you're the only ones on-site.

Both our valley pitches have been unimaginatively called valley 1 and valley 2 since they were created. But now we thought it was about time we called it what it is. It backs on to a wooded glade that is carpeted in ferns.
The back of this pitch has the stream adjoining it and the second of the streams on our property that meets it a little further back. There is a convenient access for dam building or drinks cooling which ever you prefer and fresh drinking water from our Village pump just a few metres further on around the track.
One of the favourite pitches here at Trellyn it is good for all sorts of camping due to good lawn and firm ground under. It measures roughly 10m wide x 12m deep.
The fire area gets little sun but it makes up for this from the feeling of seclusion. A high strung tarp over your fire and picnic area and a free standing camp kitchen worktop and "sideboard" crafted out of rustic timber is positioned for your ease of food preparation.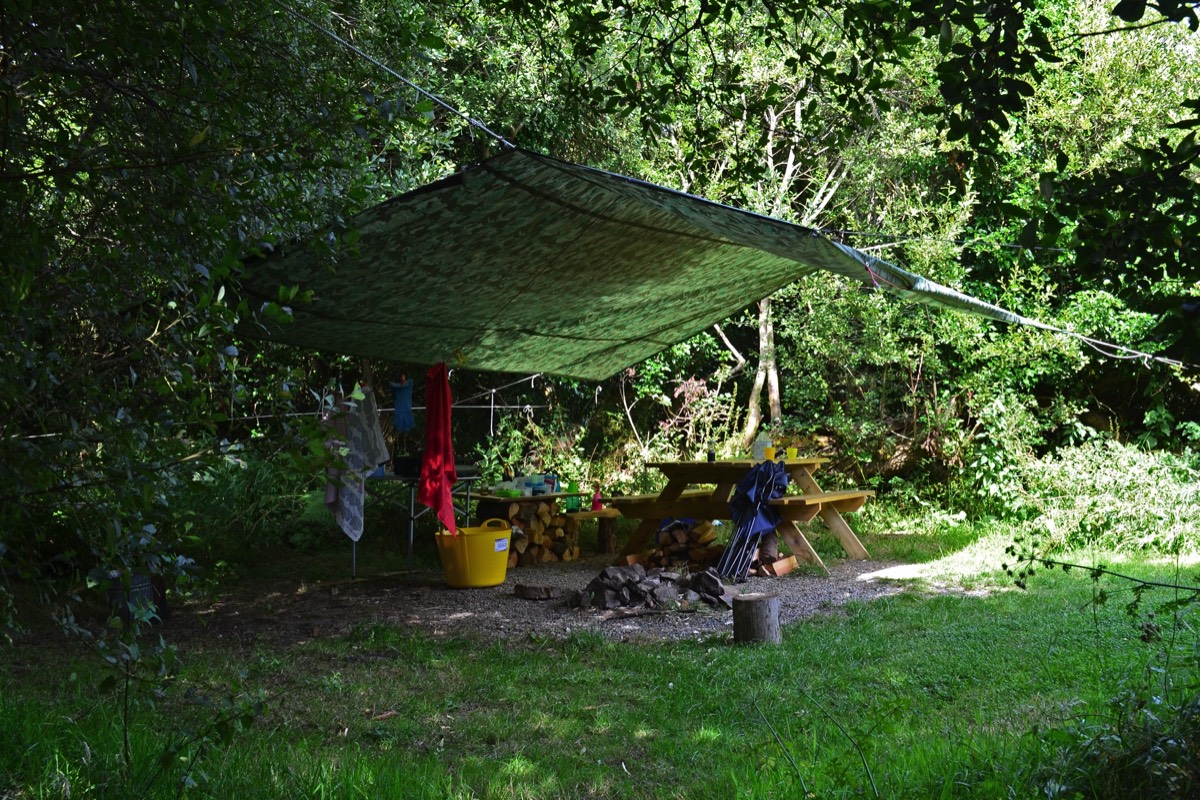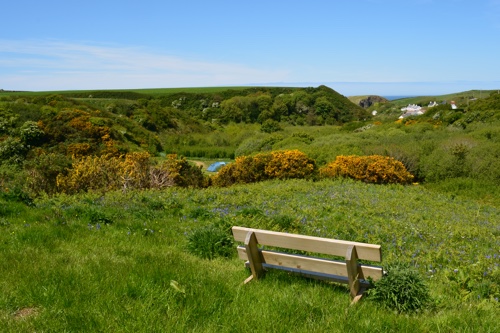 Slightly smaller tent area than the other valley pitch and the meadow pitches it has good sun through late morning to early afternoon. Around the back of the maze a few steps away it has its own waterless toilet for your late night-early morning relief. Its kinda set off the track as its on the corner but again only the last two sets of campers and the "halflings" go by in a vehicle.
Striding out and up the hill from the parking for this pitch, just the other side of the track gets you to the top of the look out. From the comfort of a carefully positioned chair you can watch the sea and the world go by and better still see the sunset replaced by the stars. This is the BIG SKY lookout and a great place to finish that last drop of wine as the sun sets.