Glamping in a beautiful yurt - Otter's reach Yurt- Formally the Beach Comber Yurt
This was a yurt that we made back in 2006. Since then this yurt has had several updates and renovations over the years. Rest assured it is beautiful throughout and has been fitted with a panoramic window that looks over the pond. It has an amazing solid handcrafted bed of ash something like "Shrek" would have been proud to sleep on. With its own external kitchen and a wood burner for your comfort, you will be able enjoy your close encounter with nature in total comfort.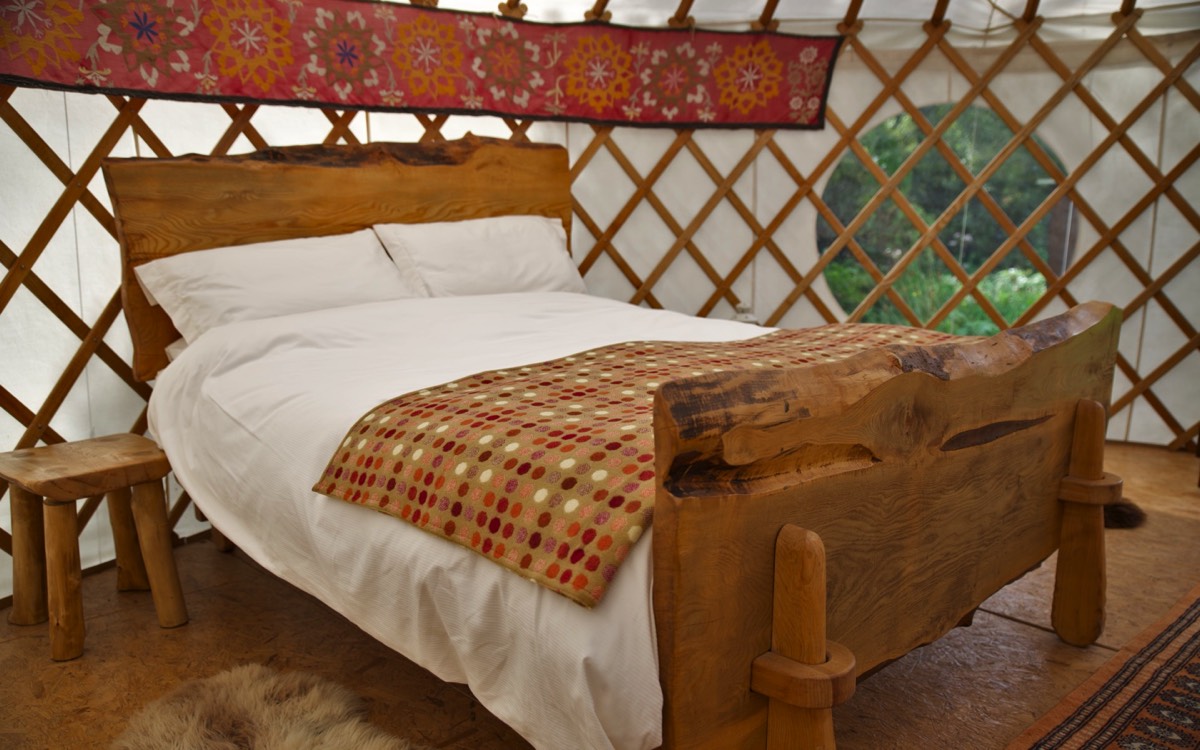 see the stars through the crown at night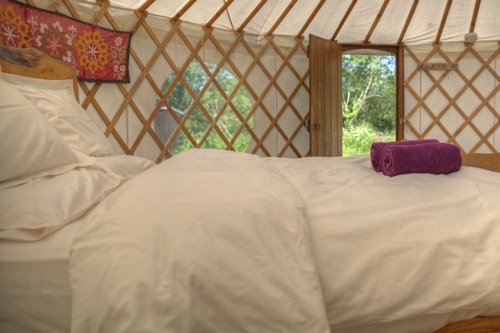 Really comfortable! - Our mattresses really are some the most comfortable mattresses we have been able to find. In fact we sleep on one at home and many of guests have requested the make and model to have at home themselves! Bedding is optional and can be provided for up to 4 in one king size and 2 single beds with cotton duvets and sheets. Extra beds/futons can be provide see rates for additional persons.
Towels are provided for our guests but please bring a beach towel though for off site activities.
The Otter's reach yurt is just beyond our lake and is nestled in a very secluded little sun trap with a lawn leading down to the campfire area.
The yurt is very spacious at 6 metre (20') in diameter.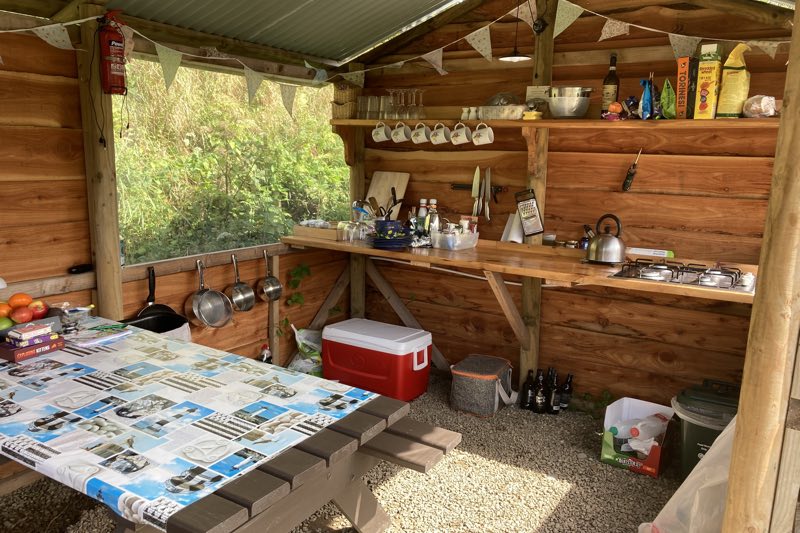 The camp kitchen area as with all our kitchens is amply fitted out
see here
for a full list. With a 4 burner gas hob and plenty of space under cover meal preparation is less of a chore and there's room to get everyone involved. There is a large picnic table that can be used out in the open when the sun shines or fits in the kitchen area at other times.
This has a really nice secluded covered fire pit area slightly away from the kitchen and yurt but close enough if you are concerned with the kids (if you have them). Around your fire are a couple of star gazer benches which are perfect height for getting close to the fire but away from the smoke.
Outdoor Dedicated shower-
You have full "wide screen" woodland from the privacy of your own shower.
This is the perfect self-contained glamping getaway with both shower and toilet en-suite.