The lower meadow camping pitch.
Late evening sun and all day sun - time slows down on this pitch so we have been told. The campfire and shelter is tucked under the edge of the woods beside the stream at the back of the pitch stealing the last of the days sun of all the camps.
Further down the valley, past the upper meadow. This is a nice level pitch, although it does undulate a little it can accommodate all caravans, camper-vans and tents, although being furthest away from the track it is perhaps a bit more of a camping pitch than a motorhome suitable pitch. A more open feeling area it enjoys a big sky but still plenty of protection from strong blows. Approximately 13m x15m.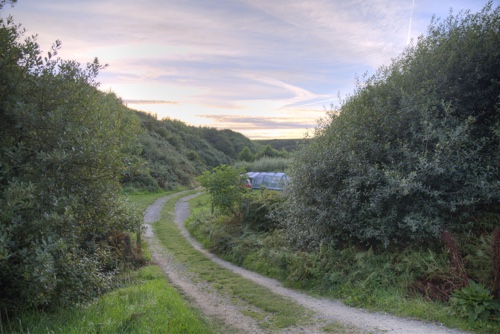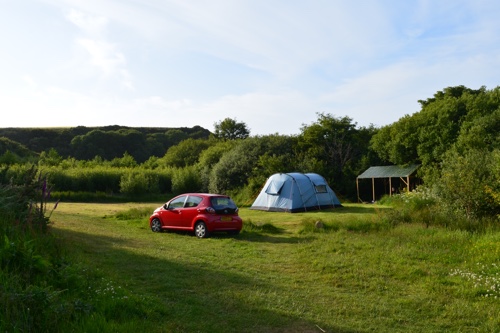 Outside your tent your view towards the sea is filled with meadow flowers and plants and the start of the little woodland that is the end of our valley just before you get to the harbour village. To your side is the stream which is well obscured by vegetation the banks and hedges. This makes it less easy for children access and creates a natural barrier. Like all our sites you have a dedicated waterless toilet just feet from where you can pitch your tent.

From this pitch you can walk in to the last bit of woodland and on down to the sea this pitch is furthest from the facilities but closest to the sea.