Glamping in a beautiful yurt - The Starlight Yurt
This was our first yurt that we made back in 2005. Yes, we have been doing glamping holidays before the term was even invented. This yurt has had several updates and renovations over the years. Rest assured it is beautiful throughout. The Starlight Sailor has been themed on a beautiful story illustrated by a local artist and illustrator Jackie Morris and includes fittings from local craftsmen. It has a solid Oak floor with beautifully handcrafted furniture, bed side tables and a wood-burner. With its own new external kitchen for 2016 and a wood burner for your comfort, you will be able to read the house copy of the Starlight Sailor in really special surroundings.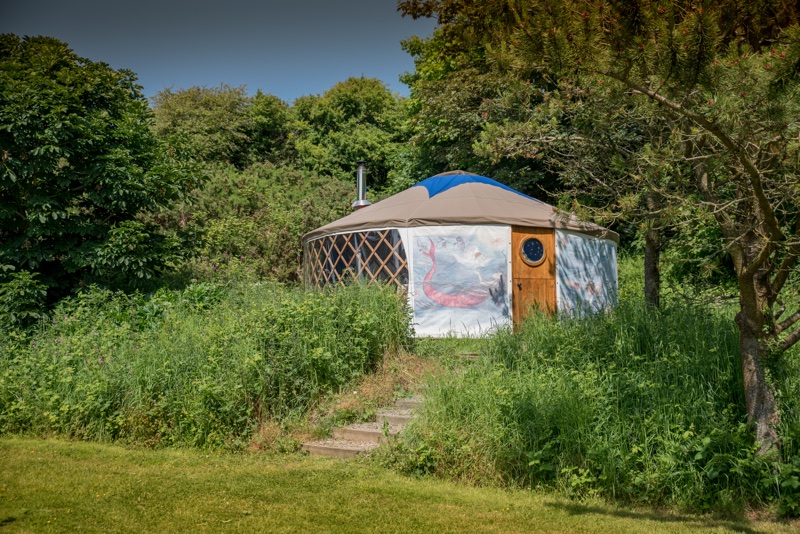 Lie back in bed at night and see the stars through the crown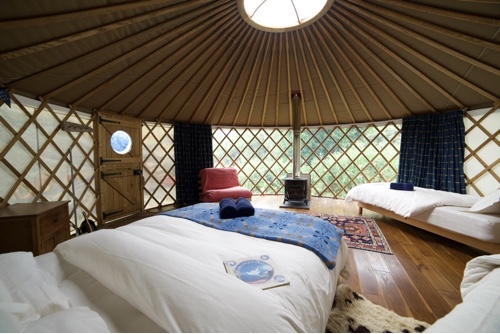 Our mattresses really are some the most comfortable mattresses we have been able to find. In fact we sleep on one at home and many of guests have requested the make and model to have at home themselves! Bedding is optional and can be provided for up to 4 in an additional 2 single beds with cotton duvets and sheets. Extra beds/futons can be provide see rates for additional persons.
Towels are provided for our guests but please bring a beach towel though for off site activities.
Outside, it is set on a little hill with its back tucked up against the woods, but in front and beyond the lawned area is a pond. This is almost inaccessible as we let nature provide a human buffer in the form of brambles and stinging nettles. A few steps from the front door is your very own hammock to while away the hours with your nose in a good book or watching the world go by in your little bit of Pembrokeshire.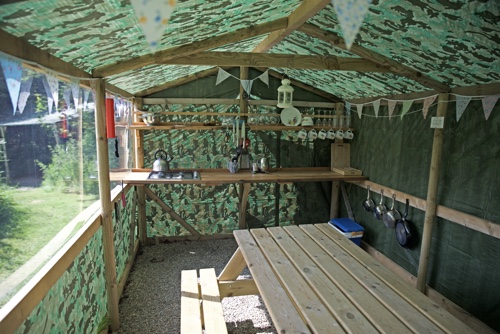 The camp kitchen area as with all our kitchens is amply fitted out
see here
for a full list. With a 4 burner gas hob and plenty of space under cover meal preparation is less of a chore and there's room to get everyone involved. There is a large picnic table that can be used out in the open when the sun shines or fits in the kitchen area at other times.
This has a really nice secluded covered fire pit area slightly away from the kitchen and yurt but close enough if you are concerned with the kids (if you have them). Around your fire are a couple of star gazer benches which are perfect height for getting close to the fire but away from the smoke.
Outdoor Dedicated shower-
You have full "wide screen" woodland from the privacy of your own shower.
This is the perfect self-contained glamping getaway with both shower and toilet en-suite.