High Five ! - Top 5 things to do while Glamping in Pembrokeshire
We have asked our visitors over the years. What is their favourite things to do on holiday ? We have compiled the "high five" of things to do in Pembrokeshire and a few others to give you a flavour of what you can do if you haven't been here before.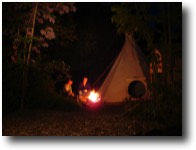 No.1 Chill out around the campfire -
this is what we are all about. Finish every day with a family group around your very own campfire. Look up at the stars and watch the bats come out to play. This is the No. 1 reason most visitors find us and the reason why everyone loves to come back. Remember the wood is free but it doesn't mean you guys have got to have another bonfire! We got through 10 tonnes of fire wood last season but you're worth it !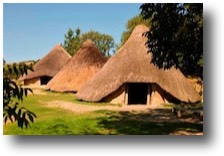 No.3 Castell Henllys-
This is an authentic reconstructed iron age fort on the original settlement from 600 BC. This a great day out and has been voted the second best activity to do when in Pembrokeshire by our visitors last year. You can join in story telling and you'll get your faces painted with traditional Celtic designs. There's lots to do for all the family. http://www.pcnpa.org.uk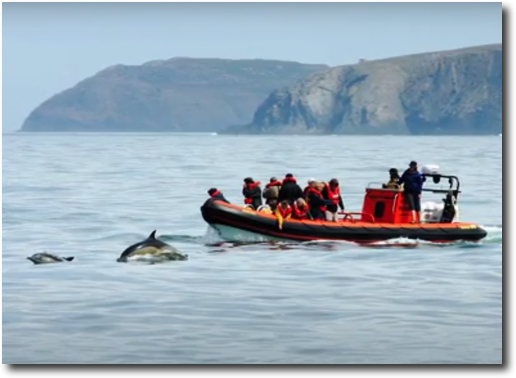 No. 5 Boat trip around Ramsey-
this is one of the best experiences and one of the reasons that attracted us to the area. boat. The trips are also tailored for those who want to see the wildlife, with seals, dolphins, puffins and even Whales are often seen. Our favourite operator is Falcon Boats who has one of the most experienced skippers in the area .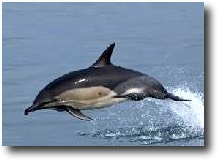 Dolphin and seal watching –
from the land or sea. North Pembrokeshire and Cardigan bay are known as the "Dolphin Coast" . Seeing dolphins and harbour porpoises is often the highlight of a visit. This can be done from land at Strumble Head and other points up the Coast. A boat trip from St. Davids can be booked and is an exciting experience in its own right. www.seatrust.org.uk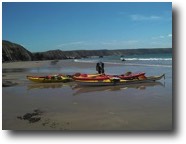 Kayak trip –
Another great outdoor experience with several operators in the area offering tailor made trips for all abilities www.seakayakguides.co.uk/ or you could try
www.mikemayberrykayaking.co.uk
No.2 Beach life -
We have more than 12 beaches and coves to choose form within 10 miles ! – Our visitors favourite beach is Traeth Llyfn beach. It's 120 steps down to the beach which is best at low tide. Only a few families make the effort to get to this "get away from it" beach. It's sheltered in strong SW winds which makes it great in the Summer when the prevailing winds blow. If you want the ice cream sellers and beach stores then Whitesands at St. Davids is a better option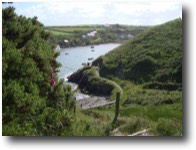 No.4 Walking and cycling-
with the Coastal path just 100 yards away from the end of the campsite, there is spectacular scenery to take in and beautiful walks. Making the experience even better is the "Strumble shuttle" that can drop you back outside the entrance of the site from a long walk along the coast or after you've walked to the local pub.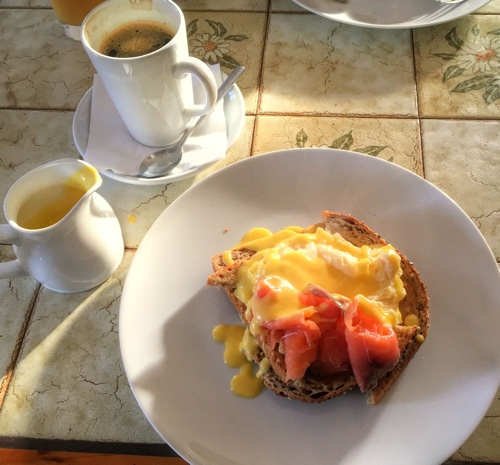 Cafe culture-
St David's Cathedral and The Cafe's – St David's is the smallest city in Great Britain,but wow its big on Character ! A great half day exploring one of the richest historical sites in Wales. Then to round it off one of the areas best restaurants or cafe galleries that offer excellent food (as reviewed by the Saturday Telegraph) Aimed at a family audience it offers fantastic food at very reasonable prices. www.refectoryatstdavids.co.uk/ or www.bench-bar.co.uk with its gallery attached.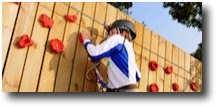 Theme park days –
Family fun days out. These are all worth a visit and offer exceptional value for the family on a day ticket and represent probably the best theme park activities in west wales check out the following links.
www.folly-farm.co.uk or www.heatherton.co.uk or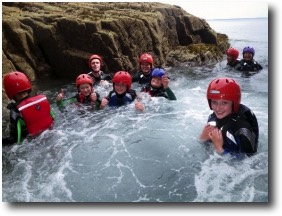 Coasteering –
the phrase was invented in Pembrokeshire ! and developed from describing this great way to see the coast from a unique angle. You scramble and jump your way around the coast at the tide line from cove to cove. Start on a blue line and progress to a flat liner ! Organise it yourself or get in contact with these guys and girls to get a great holiday experience.
www.preseliventure.co.uk
or
www.tyf.com