Bluebell pitch ~ A valley camping pitch.
(Previously known as Valley 1)
South facing - awesome sun from early morning and through to late afternoon. Biggest sky of our camp pitches yet still so protected from the elements. A brilliant covered area for the fire and a work/kitchen prep area all to yourselves.

Lots of grass all to yourself - Lovely grass that is fertilised naturally by our sheep over the winter this is a great tent and trailer tent pitch, slightly less suitable for a Motor home but OK for caravan or small camper van as it is not so easily accessible for a vehicle on a daily basis. No electric hook up and at the head of the valley its around 120 meters to the facilities.

The free standing camp shelter is set to one end of the pitch tucked in to the old willow maze. It has a 3000mm long work top to set up your kitchen on. Loads of hooks and even an undercover washing line. With a picnic table that easily sits 6 or even 8 at a push there is still room for the campfire area at the other end. A few steps around the back gets you to your own private ensuite waterless toilet so that late night inconvenience means less than 20 steps from your bed!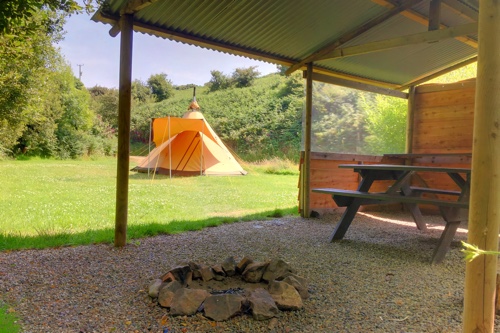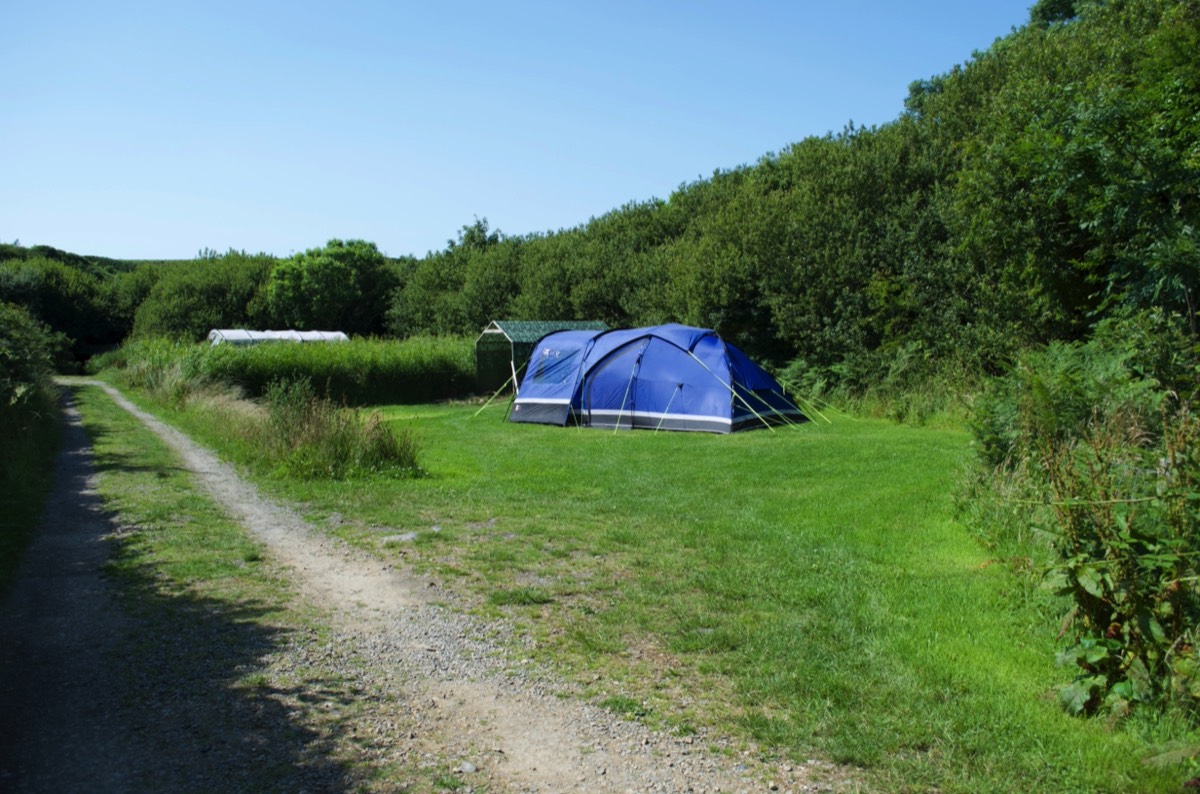 This pitch runs parallel to the single track on one side that goes to the other 3 pitches and the walking track to the sea, no real back and fourth traffic so safe for small ones. The other side is the stream which is accessible at 1 point and a frequent point at which kids build their dams :-) the stream is normally around 150mm deep and about 2000mm wide with a few small pools along its length.

Children seem to love playing in it and using it as little "watery" corridor to move to the next pitch by the "secret" back entrance. The size of this pitch is deceiving and is approx. 10m deep from to back and over 17 metres width.

Plenty big enough for the biggest of family tents. It's very secluded so apart from anyone who happens to be on the path it is not overlooked by any other campers.

And the bluebells in early spring of course.